Profile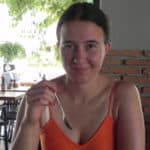 Sabina Fiolna
Curriculum Vitae
Education:

Warsaw University, Vienna University, Oxford University (since 2014)

Qualifications:

MPhil in Classics

Work History:

post office, raspberry field, vacation camp for kids, Swiss bank, consulting company, university, publishing house…

Current Job:

DPhil at the Faculty of Classics

Employer:
Favourite thing to do in research: To find something very old and beautiful that has been forgotten for years.

About Me

I am a very lucky person

Read more

I come from Poland – a country east of Germany and west of Russia. This is my fourth year in Oxford where I live with my husband Zbyszek ('Zibby' for our English friends) and our 2-years-old son Antek ('Anthony').

Currently I'm juggling between being a mother and writing my DPhil thesis in environmental history at the Faculty of Classics. In my free time (have I really said 'free time'??) I'm trying to make our world a better place to live.

I love cats, reading good books, dancing, playing board games, cycling, swimming, cooking (and eating) and travelling (I've visited 25 countries so far and I still want more). I like Disney classic animations, electronic music parties and playing bridge.

My work

Ecology two thousands years ago? Why not!

Read more

I'm doing a DPhil in environmental history. I focus on an ancient region located in modern southwestern Turkey in the Roman period (around 1 cent. BC – 4 century AD). In my research I'm using classical texts (eg. Cicero or Strabo), modern anthropological theories or archaeological data (mainly settlement patterns and tons of sherds of ceramics) in line with the results of various sciences (eg.: climatology, zoology, botany, ecology) to work out how relations between ancient people and their environment looked like.

I'm asking questions such as: did climate changes affect our history? Could environment determine people's traits or behaviour? Did ancient people change their landscape consciously? How did micro-ecologies function in a world without modern knowledge and inventions?

While trying to understand all these problems I find charming stories about dwarf mammoths, jokullhlaups, Hittite honesty or Seljuk creativity in restoring Roman ruins. I never feel bored in my work (unless I'm working on pottery sherds…). Every day brings a different intellectual adventure.

Oh yes, I'm not a native speaker. I've been learning English since I was seven and it still brings me a lot of suprises…

My Typical Day

My typical day is full of sitting. I sit when I read or write, look at maps or drink coffee, teach or learn. Perhaps this is why I still feel the need to move around!

Read more

Most of my weekly and daily schedules are dictated by my little son (he used to wake up at 4.30am at some point and he has no mercy…). Usually we wake up around 7am and at 9am Antek goes to his childminder and me and Zibby go to work. I work mostly in the Sackler library where I have my favourite seat that is always occupied if I come too late. Sometimes I need to visit other libraries. Around 1pm I have lunch and the obligatory cup of coffee. At 5.30pm I finish my work and hurry back home to meet my boys. Together we play with our neighbours, kick a ball or splash around in paddles. Sometimes in evenings we skype with our families and friends from Poland. Every Saturday we go to the Oxford University Museum of Natural History. On Sundays we meet with our friends.

But this is only when I have my real 'working days'. I'm on part-time studies and it means that I don't work everyday. The rest of the week I spend with my little one exploring Oxford and its neighbourhood (I can honestly say that I know every single slide from Reading to Banbury). During vacation we leave Oxford for longer time to go to Poland. Also, from time to time I need to visit places I'm writing about and that's a thing!

Every day is fascinating!

Me and my boys exploring the world
(babies are the best researchers)
My Interview

How would you describe yourself in 3 words?

Stubborn, curious, passionate

What's the best thing you've done as a researcher?

I visited places that no tourist would ever consider to visit. And they were absolutely wonderful

What did you want to be after you left school?

Mycenaealogist

If you weren't a researcher, what would you be?

If I listened to my parents and thought 'seriously' about my life I would have become a depressed employee in an international corporation

What is the most fun thing you've done?

I explored an Etruscan tomb that could have collapsed in any minute, saw a polar day, played Lego bricks, climbed mountains with goats as my only companions in 35'C, swam in Baltic Sea in early March, danced waltz in heavy rain, kissed my future husband for the first time at 4 am in front of Colosseum… uhmm, I really can't decide

Tell us a joke.

W Szczebrzeszynie chrząszcz brzmi w trzcinie
Work photos:

Basically, all I need is my laptop and a book currently borrowed from a library, so theoretically I can work anywhere. Practically, a library is the best place to work: books on hand, silence, no food to get fat on, no coffee to spill on your materials…

Usually I work in the Sackler Library that looks quite like the library from 'The Name of the Rose' – it's round and dark. Most of people who come there for the first time get lost easily between shelves, desks and floors, but after 4579348702745 hours of sitting and reading you can walk with your eyes closed and find everything without a problem.

Sometimes I'm working in the Bodleian Library where I can admire old-style ceilings and stained glass. You can breath in dust and bookworms from 18th century books. Priceless.

Sometimes I'm working in the Radcliffe Science Library that is the coldest library I've ever been. During winter people wear their jackets inside the building.

Sometimes I'm working in my college library. It's famous for the fact that Tolkien used to study there and the library still has a Finnish grammar book with his notes. The building of the library is a little jewel of Gothic architecture.

Sometimes I'm working in my favourite cafeteria. People look at my books or notes and ask questions on what I'm actually doing. I know every waiter in this cafeteria and every waiter knows that I want a cup of latte with a chocolate bomboloni. From window of the cafeteria I can observe people walking through Gloucester Green and, believe me, there is a lot to observe!

To have an idea on how my travels look like see below:

I just wanted to have a slice of bread with butter, but my butter melted…

One of the ports in ancient Phaselis. The boats are far more modern than the ruins, but their owners are doing their best.

View from the acropolis (=fortified hill) of Limyra. Down you can see orange orchards and glasshouses. The stream maeandring down there has just naturally showed up from the underground tunnels located under the hill.

Lykian rock-cut tombs from Myra
(the bishopric of genuine st.Nicholas)

Olive tree orchards among ruins of ancient Antiphellos
(it's 8.30am and it's already 32'C)

Ruins and prickly bushes in ancient Temiussa

View from ancient Arykanda

Tauros Mountains near modern Uluborlu (Turkey)

View from ancient Pisidian Antioch

If you're thinking who's this handsome guy on the photos, he's of course my personal cardriver (with no sense of direction), packing mule, 24/7 childcarer, rigid tester of ideas, most creative cook ever, eco-freak, poet, bridge-partner, and love of my life. In other words: my husband Zibby.
My profile link:
http://curiosity.imaresearcher.uk/profile/sabinafiolna/
---
---
---
---