Profile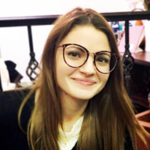 Arianna Ponzini
Curriculum Vitae
Education:

2007-2011 BA Modern languages, University of Milan. 2011-2014, MA China studies, University of Turin. 2012-2013 MA China studies, Zhejiang University. 2014- Ph.D Oriental studies, Oxford University

Qualifications:

Chinese and English teacher

Work History:

Main jobs: Xue Hanyu Chinese language school. Wall Street English. Chinese-Italian mediator in hospitals in Milan.

Current Job:

Mercury school: tourism, language learning and culture exchange for Chinese groups.

Employer:
Favourite thing to do in research: Spending time with my interviewees in China, getting to know them and their families, learning about Chinese culture while they learn about ours!

About Me

Italian-American, in love with China.

Read more

I live in Oxford with my husband. I come from Milan and love everything that is arty and creative, so I like to keep up with the latest fashion and make-up trends. On my spare time I make things, like simple jewelry and other crafts. I am also a decent cook, I like to borrow interesting recipes from other countries and try my best to reproduce them at home! I travel as often as I can and I love to watch TV shows and movies, both Western and Asian. I am a big fan of How I Met Your Mother, btw.

My work

I'm a researcher in Contemporary China Studies

Read more

I am a researcher at Oxford University and I am interested in contemporary China, especially Chinese society. I am writing a book on how Chinese families adapt to the big city of Shanghai from a perspective that no one has considered before! This is why being a researcher is so exciting, because you are always discovering new things.

My Typical Day

Reading, writing, keeping up with my Chinese and meeting new people :)

Read more

My typical routine includes reading material, writing papers and my thesis, and sometimes going to Shanghai to meet with Chinese families and listen to their stories. Thanks to my work, I spent two years in China and met a lot of new people. Sometimes professors from China come to Oxford and I get to welcome them and take them around the city.

My Interview

How would you describe yourself in 3 words?

Warm, creative, encouraging

What's the best thing you've done as a researcher?

Making a contribution to my field of study

What or who inspired you to become a researcher?

One of my professors from university, who spoke the best Chinese. After listening to her speak, I realized I had hope too :) What inspired me is the wish to overcome language and cultural barriers between East and West, afterall human feelings are all the same :)

What was your favourite subject at school?

English literature, I had a great English teacher in high school, I will never forget him!

What did you want to be after you left school?

A language teacher

Were you ever in trouble at school?

Yes, a few times. But nothing too serious, I still made it to today :)

If you weren't a researcher, what would you be?

A language teacher, English or Chinese.

Who is your favourite singer or band?

Pop and rock music, it's really hard to find one favourite!

What's your favourite food?

I love sushi and Italian food, of course ;)

What is the most fun thing you've done?

Spending a night in a tree house in Laos. That was a few years ago, when my husband and I went traveling for nearly two months in South East Asia with only a backpack on our shoulders. Well, I probably had more than one..

If you had 3 wishes for yourself what would they be? - be honest!

Be happy, have the money to do what makes me happy, have all the people I love in the same city!

Tell us a joke.

A: My plants die all the time! B: Oh, do you ever talk to them? A: Sure, I talk to them all day! B: Ok, that's why….

Work photos:

I don't have an office for now, but I usually work in the China Centre in Oxford!
---
---
---
---